Shish Kebab –Tender pieces of steak are marinated in an aromatic spice blend , skewered with onions, peppers and then grilled to perfection!  Pair with a delicious side of whole wheat couscous.   Perfect for summer cook outs and for 4th of July celebration!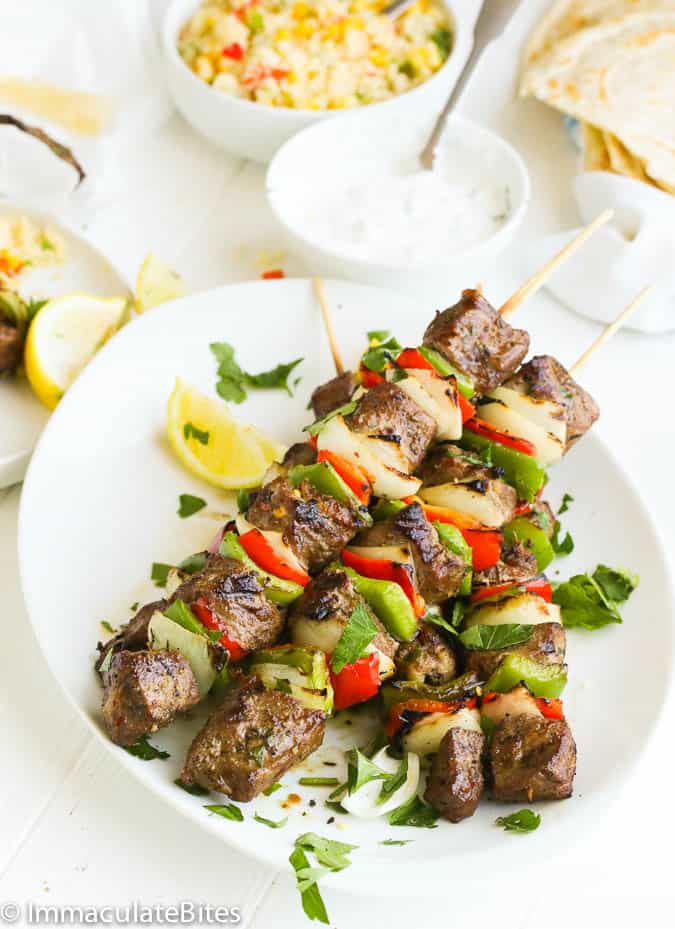 I don't know if you've noticed but there's  something seriously  alluring about eating meat on skewers. No , forks , knives or cutting required ,  just pure  juiciness  with every delicious bite .. making your tastebuds yearn for more and more as soon as the last piece is over.  
Ah pure pleasure!    
Have you noticed that you tend to eat way too much with grilled meat when they are skewered ?  I certainly do. If you do, high five to that! ! 
You may ask, what is "shish kebab"? This term is said to have its Turkish and Armenian roots and has become very popular in Western food culture over the years. 
And I'd say it has evolved tremendously with different varieties and is  loved by people from all over the world.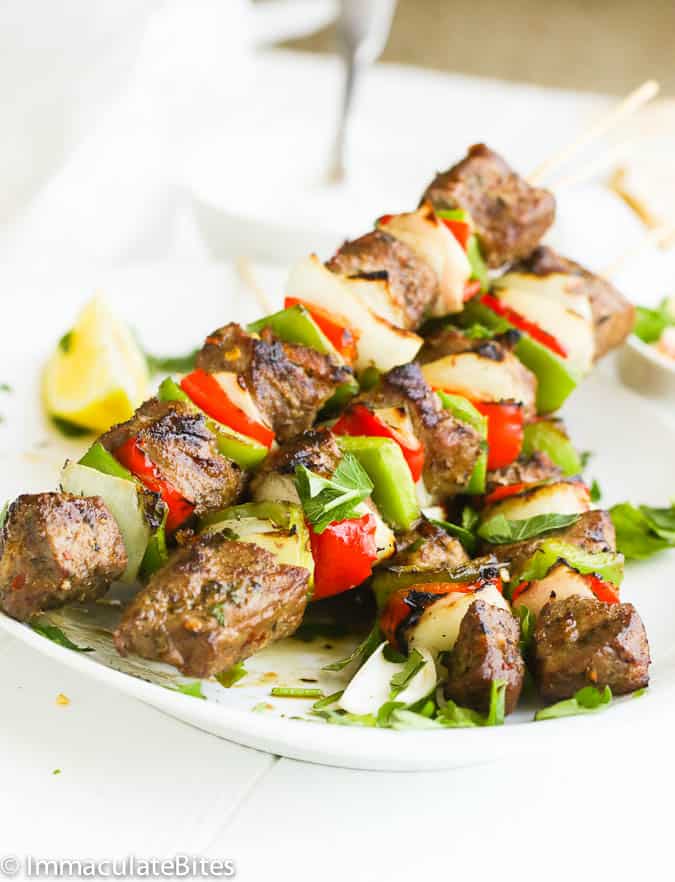 If you are a purist and love the real deal then tenderloin should be on your shopping list.  BUT, before you proceed am just going to to throw in my cents-  Tenderloin are tasteless, boring and won't  give you value for your money .  I said it !don't get the hype.
I remember purchasing my first cut of tenderloin and was so so so disappointed that I almost took it back to the super market . Oh yes, I was furious ! I wanted my money back, even though it was on sale.  That was the first  and only time I ever  bought  got beef tenderloin. 
You want flavor ? Go with Ribeye ,New York  or Sirloin steak. Fat is go here- especially if it's uniformly distributed.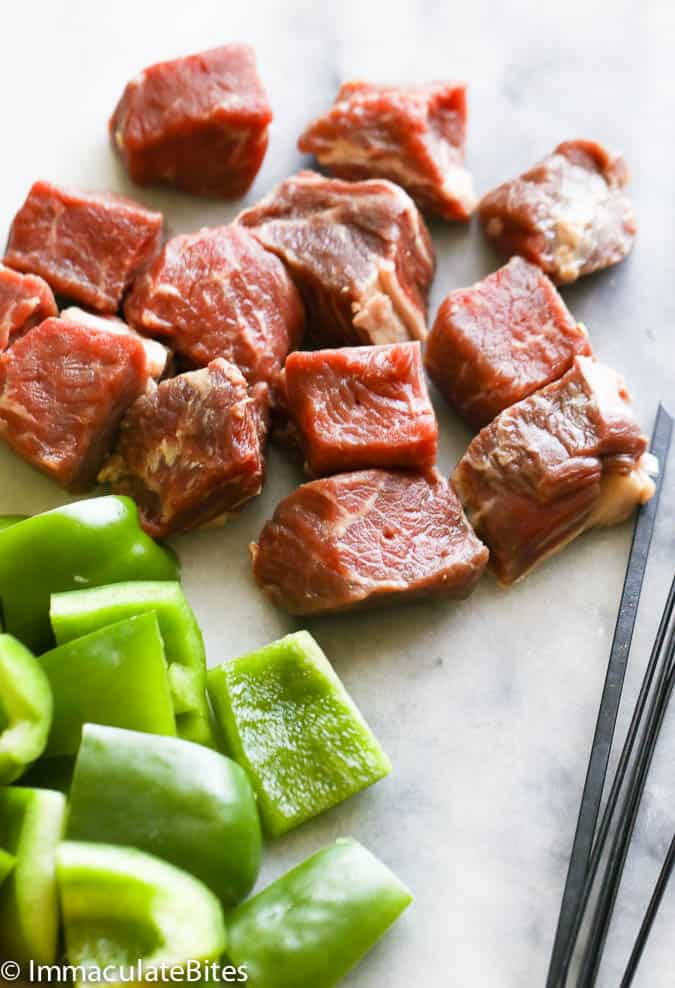 As for the marinade, there is really no strict rules to follow.
But if  you  are after the best, rich-flavored beef kebabs and would make you moan with pleasure,  then I'd say marinate it at least two hours or preferably overnight ,to give time for the flavor to penetrate every inche of the meat.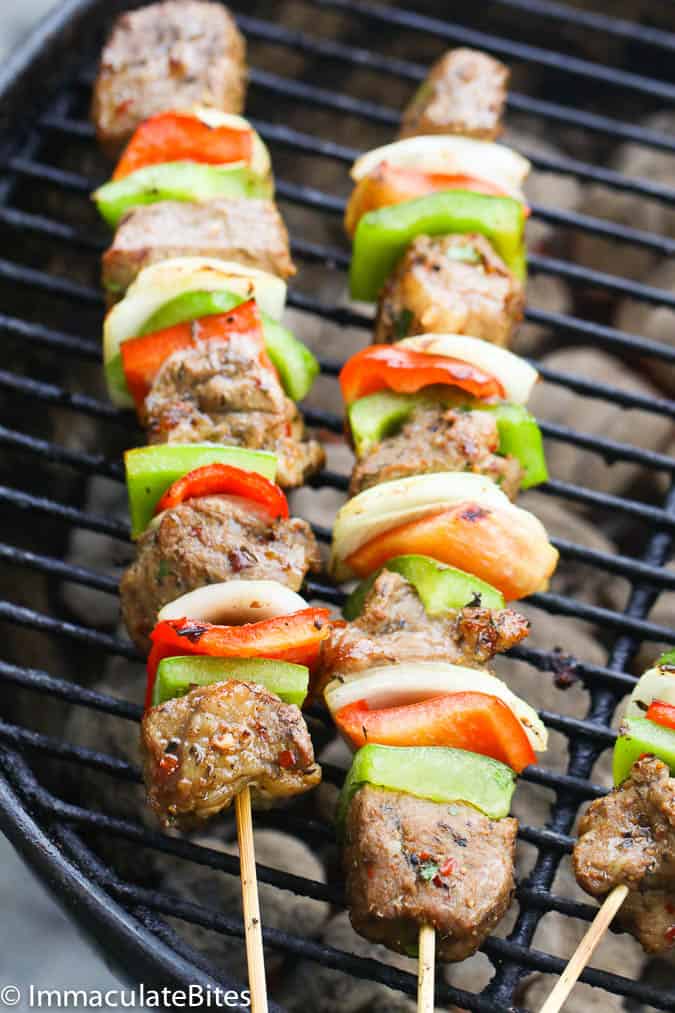 If there any spices that you don't particularly  care for then leave it out .  Just the garlic and peppers alone make it really tasty. I sometimes play around would the spices  and add or take  to suit my mood at the time.
Leave any spice out if you are not too fond of it .
It's your kebab make it work for you!!!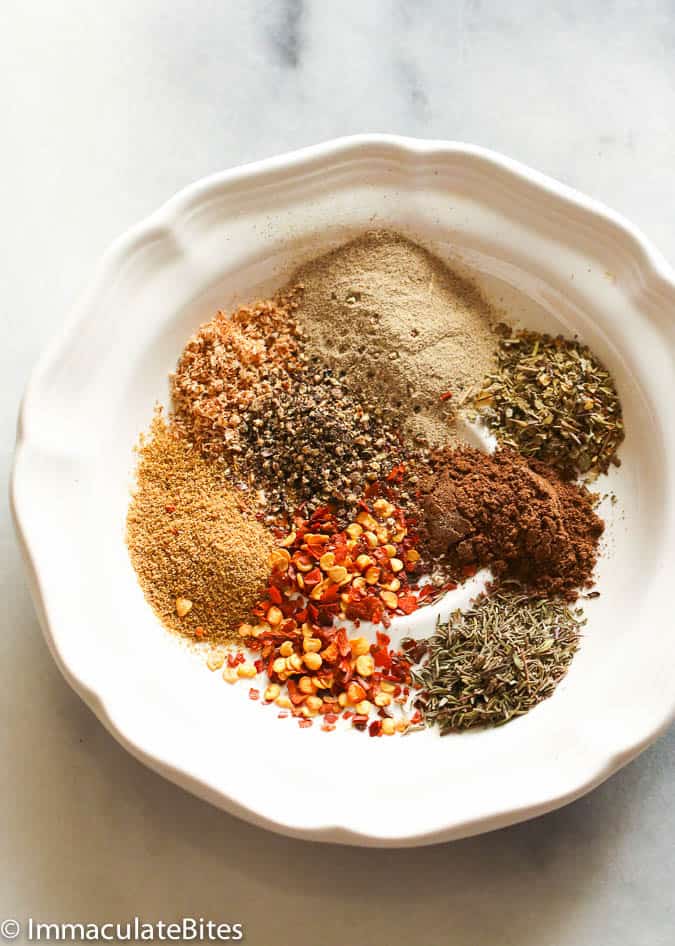 I have made these kebabs now about 3 times in the past two weeks , just playing around with it . And it never disappoints .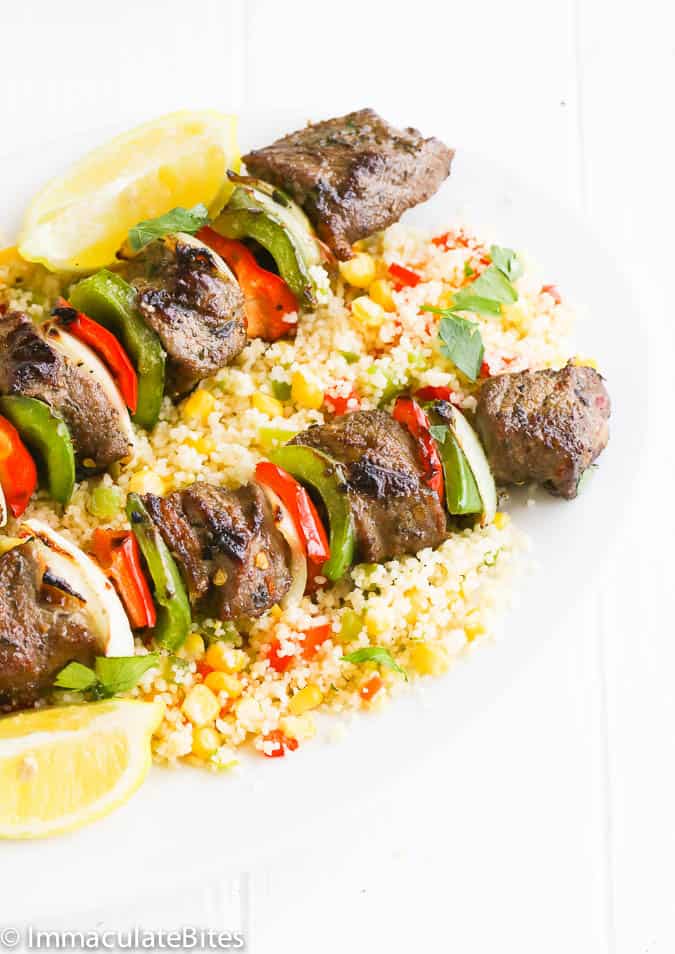 Do you know who enjoyed it  the most? One of my brothers. He drove in  Los Angeles traffic for 2 hours just to devour  these succulent  kebabs.  Yes , LA traffic is that bad, especially on the 405, always a mess! 
After taking a bite ,  I could see the delight in his face – like it was all worth it ! He ate for 10 minutes without saying a word- so out of character for him. He is a talker.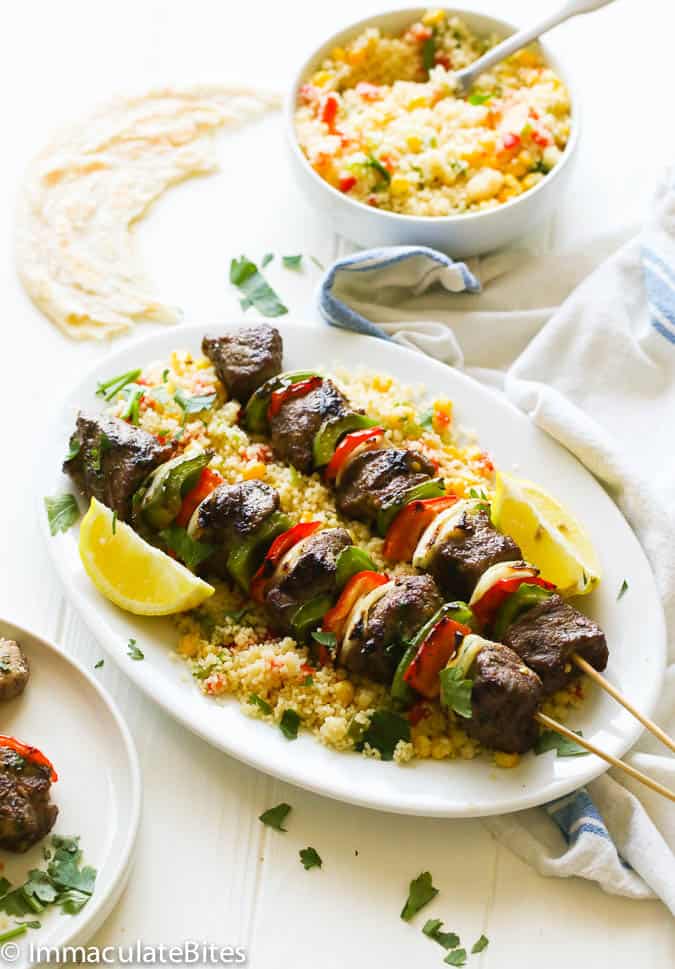 Want to turn this shish kebab into a party? I got you covered! Make it with this easy whole grain couscous- use the leftover vegetables to to make a quick and easy couscous. And don't forget to pair it with  this  my all-time favorite East African pan-grilled bread Chapati and you're all set for a flavorful, smokey dish.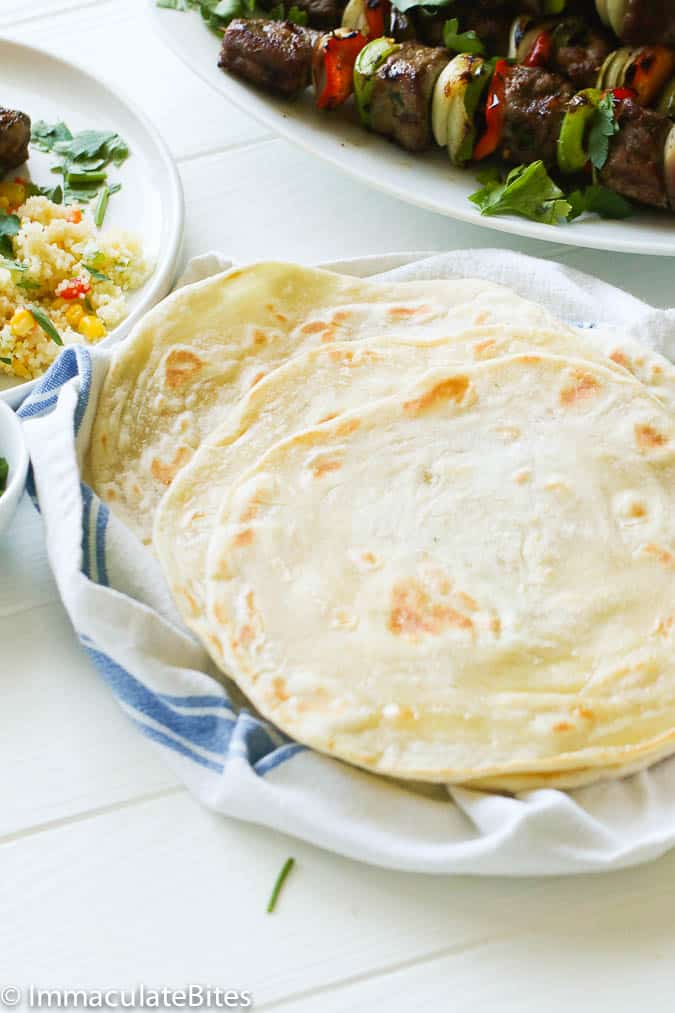 Enjoy!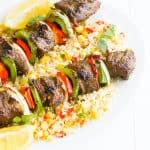 Print
Shish Kebab
Shish Kebab — a delightful flavorful dish on skewers with chunks of marinade beef and veggies grilled to perfection
Course: Main
Servings: 5
Calories: 342 kcal
Author: Immaculate Bites
Ingredients
Marinade
½

teaspoons

nutmeg

1

teaspoon

thyme

½

teaspoon

cumin

1

teaspoon

all spice

1

teaspoon

white pepper

1

teaspoon

freshly ground pepper

1

teaspoon

pepper flakes

1-

teaspoon

dried oregano

2

tablespoons

soy sauce

1

tablespoon

minced garlic

(about 3 medium cloves)
Kebab
2

pounds

beef Sirloin

, New York Steak, Ribeye – cut into chunks

3

Tablespoons

or more extra-virgin olive oil

(sub with vegetable oil)

1

large white or red onion

, cut into chunks

2

bell peppers – red and green

, cut into chunks
Quick Couscous
2

cups

Couscous

1-2

Tablespoons

Butter or olive oil

1

cup

corn

thawed , rinsed

1

cup

bell pepper

1

teaspoon

salt

3

cups

broth or water
Instructions
Marinading
Combine nutmeg, thyme, cumin, allspice, white pepper, freshly ground pepper and red pepper flakes, in a small bowl.

Add to the beef chunks and evenly coat, then add garlic , soy sauce, and desired amount of oil. (I usually start with 1 Tablespoon , add more as needed until every inch of beef is coated )

Lightly salt.

Tightly cover beef with plastic or place beef in a large resealable plastic bag. Let beef marinate for at least 2 hours or overnight
Grill
Preheat the grill to medium high heat. Thread the beef , onion and bell pepper onto the skewers.

Grill for 8-10 minutes until the meat is done to desired liking.

Add stock or water to medium sauce pan together with butter, salt, vegetables and bring to a boil.

Gently stir in the couscous . Turn off heat , cover and let steam for 5 minutes. Fluff with a fork and serve with Kebabs.
Recipe Notes
Shish kebab are usually made with tenderloin . However, don't waste your money getting beef tenderloin opt for ribeye, New York steak or sirloin instead. It is not as flavorful as the other cuts and meat. Annd is quite pricey . Your wallet and taste buds would thank you.
For even cooking , separate the beef from the vegetables. It lets cook each item to desired doneness, thereby preventing over or under cooking. You can either use stainless steel skewers or wooden- they both work.
If using wooden skewers soak in water for about 20 minutes to prevent them from burning.
Try not to load the skewers with too much meat or vegetable , it might weigh it down and cause it to split apart. You can use two skewers per kebab, it helps flipping it over.
Nutrition Facts
Shish Kebab
Amount Per Serving
Calories 342 Calories from Fat 135
% Daily Value*
Total Fat 15g 23%
Saturated Fat 3g 15%
Cholesterol 107mg 36%
Sodium 514mg 21%
Potassium 803mg 23%
Total Carbohydrates 7g 2%
Dietary Fiber 2g 8%
Sugars 3g
Protein 42g 84%
Vitamin A 32.6%
Vitamin C 77%
Calcium 6%
Iron 21.7%
* Percent Daily Values are based on a 2000 calorie diet.